Choon Sil Kwan Taekwondo and Philosophy
The purpose of Chong Sil Kwan Taekwondo is to develop an individual's mental and physical well being through a highly stylized and deliberate method of rigorous martial arts training. The result of this training is an empowering sense of self-worth, and the ability to control one's physical state and personal destiny. The student is guided through four stages of philosophical development:
Imagination
Inspiration
Actualization
Realization
In the initial stage of philosophical development, students must learn to use their imagination to set goals beyond their current limitations and, from this, visualize their achievements in advance. This, in turn, strengthens their belief system to the point that specific goals are possible and obtainable. With goals firmly in mind, the students must learn to self-inspire themselves into action, as they develop a sense of self-worth. Without this, they may never strive for success as they may feel that they do not deserve the rewards that accompany achievement.
Actualization is taking the first step and entering into the process of the work and reward system. The development of a strong work ethic is the most important element in this philosophy. Even the most average of people can achieve excellence with a positive work habit.
Realization refers to the attainment of one's goals. Upon reaching these achievements, new privileges are merited as new goals are recognized. This process perpetuates itself as the previous results offer new challenges and new responsibilities. This positive growth cycle not only improves oneself, but also the immediate world around you. This concept of "Constant and Never Ending Improvement" is the ultimate purpose of Choong Sil Kwan.
In the tradition of Taekwondo, our school has adopted the Tenets of Taekwondo and Student Oath. We feel that by living and developing these character traits, a student can have a better life and help others to do the same.
Tenents
Courtesy
Integrity
Perseverance
Self-Control
Indomitable Spirit
Student Oath
I shall observe the Tenets of Taekwondo.
I shall respect instructors and seniors.
I shall never misuse Taekwondo.
I will be a champion of freedom and justice.
I will build a more peaceful world.
Motivation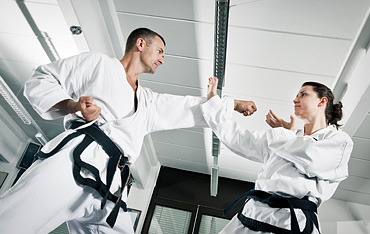 Our teaching emphasis is on quality martial arts instruction and character development. Physical fitness is stressed and we have a quality competition program for those who like to participate in tournaments.   We believe that our black belts are physically, mentally and emotionally strong and balanced and can change the world to be a better place by their leadership. We are always striving to meet the needs of our clients in a positive and effective approach.  Students come for many different reasons:
self-defense
exercise
lifestyle improvement
social and personal development
Whatever the reason that our students train, we are committed to their goals and helping them move forward.

Impact Martial Arts is a member of the American Martial Arts Alliance.
Programs and Classes
Our base style of martial arts is Taekwondo, a Korean form of self-defense. There are programs for everyone of all ages which are adapted to meet the needs of each individual. Our instructor's are Nationally certified and have many years of experience or are in the Instructor Development Program. They provide the best possible training to the student and promote, respect, team work, responsibility, courage, leadership and many other character traits. Training at Impact provides good physical fitness, healthy and safe environment for proper learning, children's and adult programs, leadership programs and Instructor Development, Cross training with jujitsu, grappling and weapons for adults and juniors. Private instruction is also available.
Schedule
Impact - Harrison
Monday
Tuesday
Wednesday
Thursday
Saturday
KickStart Fitness Class
Schedule Consultation
5:15 a.m.
12:15
7:15
5:15 a.m.
12:15
4:30


7:15
5:15 a.m.
12:15
4:30
9:00 a.m.
Private/Intro
(Appointment Only)
4:00
4:00
Little Dragons
5:15
White-Yellow Beginners
6:15
5:15
5:15
Green-Black Advanced
5:15
6:15
6:15
Gracie Jiu-Jitsu
7:30
7:30
Impact - Mtn. Home
Monday
Friday
Private/Intro Class
(Appointment Only)
4:00
4:00
White Belt / Little Dragons
4:30
4:30
Kids Colored Belt
5:15
5:15
Advanced Kids & Adults
6:15
6:15
Gracie Jiu-Jitsu
7:30
7:30
Little Dragons Classes are 30 minutes
Kids Classes are 60 minutes
Adult Classes are 60 minutes
Leadership Classes are 60 minutes